Phin offers the optional delivery of raw CSV data for admins to discover and understand trends in how their users are completing training and how they interact with simulated Phishing emails.
Phin Sample Phishing Clicks CSV Report
Link to CSV download (https://storage.googleapis.com/phin-public-docs/knowledgeBaseAttachments/example-phishing-clicks.csv)
Phin Sample Training Data CSV Report
TBD
Turning on CSV Delivery
To enable the generation and delivery of CSV reports, navigate to the company's "Reporting" page. From here, you can access the reporting settings window which lets you toggle the delivery of weekly or monthly CSV reports for either training data or phishing clicks data. Note that you must enable PDF reports in order to receive the CSV reports as they are bundled together, and you must also have a valid Report Viewer address for the reports to be emailed to: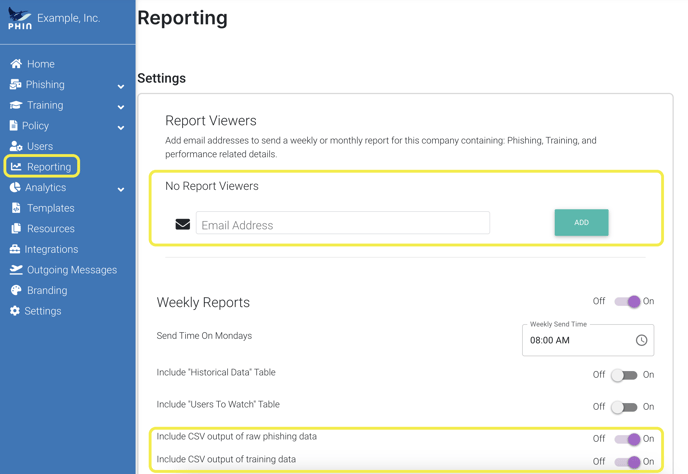 Report Data
The Phishing Click reports look back 12 months from the send date and give a complete overview of all valid clicks that users have made on simulated Phishes. This click data includes:
The user to whom the phishing simulation was sent
The campaign that the phishing simulation was a part of
Metadata about the specific phishing simulation email. This currently includes:

Email Subject
Email From Address
Sent Date & Time
Clicked Date & Time
The IP address of each valid click on the Phish
User Agent String
The Training Data reports also look back 12 months from the send date and gives essential data for all users who were assigned courses. This includes:
Name
Email
Course Name
Assigned Date
Completed Date, if applicable
Course Status
Limitations
CSV reports of phishing click data only provide records for valid clicks - that is, clicks which were not marked as false positives by admins.