Sometimes you might have forgotten to opt into reports for your company, or perhaps you've just missed an important setting and want to see what it would look like. Ad-hoc report generation enables you to get back what you've missed with ease.
First, navigate to the company's Reporting Page from the left navigation panel. Scroll down to the Reporting History Table and the Generate Report button can be found on the right: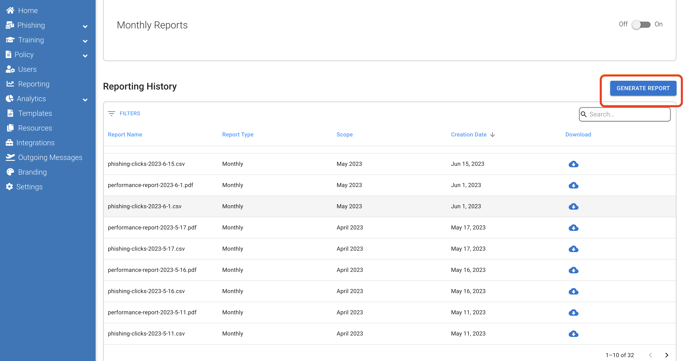 In the Report Generation dialogue, you can opt in and out of report settings as you would for scheduled reports, and add custom recipients to the generation: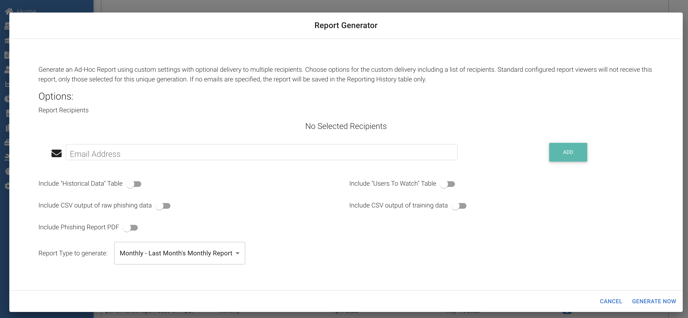 The generated report will depend on the type selected. Monthly will generate the previous month's report with all selected options. Weekly will generate a report a current report for the current month. The report will not be sent to any configured report recipients for scheduled reports, and will only be sent to those emails added in this dialogue. If no users are added, it will be generated and stored in the Report History table, but will not be emailed.

After clicking Generate Now, a confirmation will appear. As previously mentioned, if no users are selected, you will be alerted that the report will generate and be stored in the Reporting History Table in a few minutes. If users were added to a distribution list, they will be confirmed here, and the report will also be stored in the Reporting History Table before it is sent.