Greetings Phin Phriends! As summer is heating up, so is our Dev team! They've been hard at work refining our existing feature set to make your lives easier! Please read below the details of each item:
Campaign Details page
Under the Campaign Details, admins can now see a one page summary when they click on the view icon (eyeball icon). The summary includes the following sections. To learn more about campaign details, click here.
Name & Description
Schedule & Next assignment summary
Future courses
Launched courses
Audience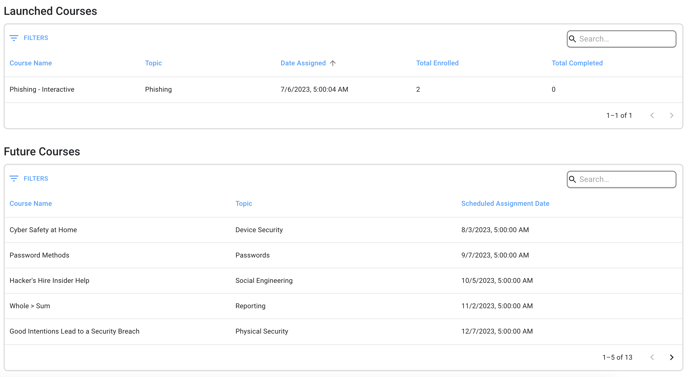 Partner Company Table
The Phin Partner Portal shows greater details of your customers at a glance upon login. These new fields include:
Total Active Users: Total number of users in the company that have an Active status

Total Enrolled in Campaign: Total number of users in the company that are currently enrolled in a phishing campaign, fixed training campaign, or continuous training campaign

Change in Campaign (Number): The total increase or decrease in enrolled users from the end of last month vs today

Percent Change in Campaign: The percent increase or decrease in enrolled users from the end of last month vs today

Additionally, to increase security we have moved the company delete button to the Settings page under each company. Here you will see a large disclaimer and option to Delete this company. This action is permanent and can only be performed by an account administrator.

CSV User Template
If you need to manually upload users into the Phin Platform via a CSV, we now have a template available for you to download in the Users section of the portal. The only required fields are first name, last name, and email address, but all possible fields are listed for you to utilize.
Click on download sample CSV
Fill in the information
Upload it
Map the fields of each column to Phin's platform
Complete the import!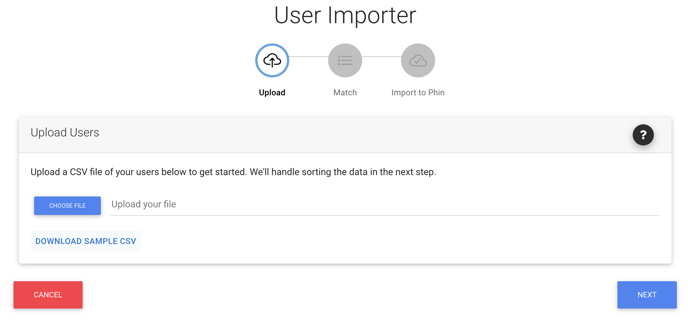 Additional Highlight
The Clear All button in phishing campaigns was temporarily broken. This has now been fixed and functioning as expected.
Knowledge Base
Every release Phin works to keep our Knowledge Base up to date with our new features. You can read about the platform and it's updates here: https://www.phinsec.io/knowledge.
Thanks for using our product!
We use all provided feedback to help drive the development direction of Phin. Please keep reaching out and helping us shape the future of the product! All ideas are welcome, keep them coming!
The Dev Team @ Phin
Need help or have an idea for us? Click here!